Toilet Clog Repair and Broken Toilet/Sewer System Backup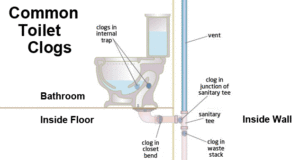 Some common reasons for toilets to get clogged or leak are due to cracked or broken porcelain or simply a backup in your sewer system which can quickly lead to even more dangerous situations such as major home flooding or even damaging your floors.
Clogged Shower drains or Bathtubs?
This is something everyone deals with one time or another, that unwanted clogged shower drain or bathtub. Even more so troubling is when your bathtub backs up and you experience this awfuller drain odor which overpowers your entire house.
Your first step is to call in the experts from PlumbingWay, its our job to get down and dirty and get your shower and bathtub back in order.

Click here to visit our homepage for more information
pasadena plumbing pasadena, ca altadena plumber
Average rating:
7 reviews
Sep 7, 2019
Kevin replaced two leaking kitchen underground pipes that the previous handyman installed incorrectly; he gave a fair quote, purchased the material and installed them perfectly. We'll be happy to hire Kevin again! Thank you so very much
Jul 11, 2019
Im grateful
Talk about fast!! I had a toilet leak in my apartment that flooded my floor and refused to stop. I had an event that evening and I needed this handled like yesterday. Kevin came out so quick and figured out the issue while I did my makeup in the other room. Before I could take all my hair pins out, they had mopped my floor and got my toilet working in no time. I'm so grateful I was able to leave my apartment and now I wouldn't come back to soaked floors again. I'm so grateful!
Jun 20, 2019
thanks
Best plumber in Town!
I had a plumbing issue and they were very knowledgable.
They are clean, fast, and reliable!!
Jun 12, 2019
happy happy happy
My dishwasher was leaking and I called Kevin at plumbingway in pasadena california to repair, They came and fix the problem within an hour. Very professional and fast, will call again for sure
Apr 8, 2019
thank you
Great, rapid service and fair pricing. Very helpful and clear communication with the owner and when the plumbers arrived, they were punctual, polite and very helpful. Highly recommend.
Feb 5, 2019
The staff at plumbingway is professional and the commercial facility is clean. The staff answers your questions and guide you with resolution, quite refreshing. I want to personally thank Kevin for helping me tremendously with my water heating needs.
Nov 7, 2018
wow
Plumbing emergency is not cheap here in los angeles, But the perfect job makes it less painful thanks to Kevin, We definitely use them again.